With the amount of people and children playing sports, the right aid is also crucial. We are also an Sports Injury & Rehab center in pune who look forward in assiting people who need first -aid or medical help. There is a lot of dedication and commitment involved in pursuing a professional athletic career. As we know that it's important for every athlete to perform well and grow throughout their career. The biggest pitfalls that adversely impacts any athlete is a sports injury, which shortens or even in some cases ends an athlete's career. To avoid serious mishaps in the future for athletes, we took it as our responsibility to introduce a Sports Injury & Rehab center in Pune.
---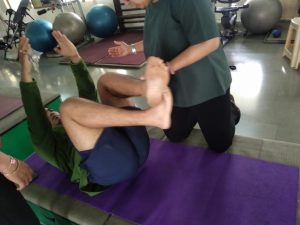 Why do the athletes get injured despite of their amazing fitness level?
Athletes are prone to injuries such Pulled Hamstring, ACL, Tennis Elbow, Muscle tear, Muscle Cramps, Dislocation, Inflammation, Swelling etc.The most important factor is to understand, how our human body functions and on how we need to plan programs to maintain and develop the needful muscles in proportion with the rest of the body.
It's a very common disbelief that if an athlete is involved in a full-body sport only then he or she would need advanced training. Though every sport may require different senses and unique skills to play and participate, our body is a connected machine even if one part fails the rest falls.
How Krumur Healthcare can help the Coaches and the Athletes? 
We focus on educating the coaches and athletes the importance of injury rehabilitation, sports training and recovery protocols as being one of the early birds among the sports science facilities in Pune, India. Our rehabilitation program involves a
Rehabilitation training and exercises.
Sports Medicine Support for speedy recovery.
Helping athletes with special Diet & Nutrition plans during rehabilitation.
Recovery oriented treatment.
Helping athletes connect with other medical professionals at times of emergencies.
Sports specific training for athletes.
Focused on overall development of athletes i.e. physical, psychological and physiological.
Why is sports medicine important?
Sports Medicine plays a very vital role in helping an athlete recover as well as support their muscle and body growth that best suits their sport and sports requirements. The concept of sports medicine in India is now in the rise, due to awareness by national and international exposures.
Our teams of professionals have helped over 1000+ Athletes with national and international backgrounds, with our unique treatment & rehab program.